Handling a number of employees in any business is not an easy job, and employee scheduling is one of the most important and critical tasks in business management. This task becomes even more complex in businesses that continually operate for 24 hours.
Previously, when computers were not very popular, many small and big industries used to hire separate staff that would ensure proper scheduling of employees. However, this is a very old way to design a proper working schedule for each employee. Now most companies prefer to have an automated process for employee scheduling. In the modern age, we can take advantage of computer software to accomplish this.
There is a lot of different employee scheduling software on the market, and each software has its own benefits and limitations. When looking for a new business tool, we always seek the greatest benefits at the lowest price. Thankfully, there are also many free employee scheduling tools on the market. Let's check out our compilation of the best free employee scheduling software to automate your business scheduling activities.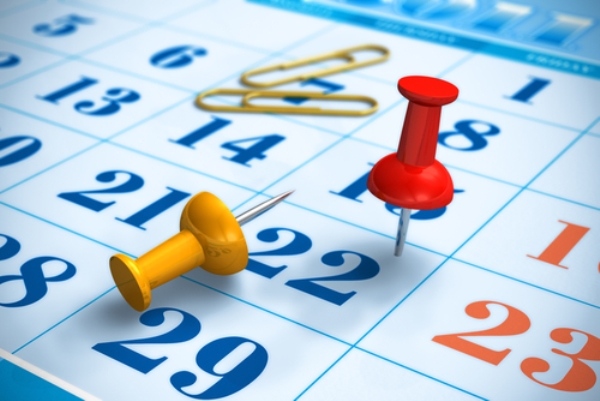 6 Best Free Employee Scheduling Tools
Planday
Planday is an amazing work schedule maker. It offers all the features you expect from good employee scheduling software. It has an online clock that is automatically connected to the payroll system. This way, you will be able to calculate the exact number of work hours served by an employee and pay them accordingly.
You will also be able to easily export and import data from your payroll systems. All in all, Planday carefully ensures that you are optimizing your company's costs. From Windows and Linux to Android and iOS, Planday works well on all platforms.
One of the best features of this powerful shift schedule maker is that it allows employees to swap shifts. This way, Planday ensures that there is never an empty slot, even when an employee calls in sick or is unavailable.
This software is powerful enough to serve both small and big organizations. It comes with a 30-day free trial period. If you are still hesitant about using this employee scheduling software, you can get the free trial option to see if this software will work well for you.
Key Features of Planday
Planday is quite easy to use and works well on various platforms.

With this software, employees can swap shifts and fill in for each other in times of need.

It comes with a 30-day free trial period.
WhenToWork.com
Get better at planning with When To Work staff scheduler. They have a crisp interface with multiple functions and good online support. Also, you can find an extensive YouTube tutorial for all of the platform's functions which is great to have! You can also take advantage of the free trial option to test out the software before spending any money on it. 
Key Features of When To Work
Increase Efficiency – know coverage and scheduling availability information

Delegate – add scheduling managers and set their permissions

No Risk – use it free for 30 days with no credit card or personal information required
ZoomShift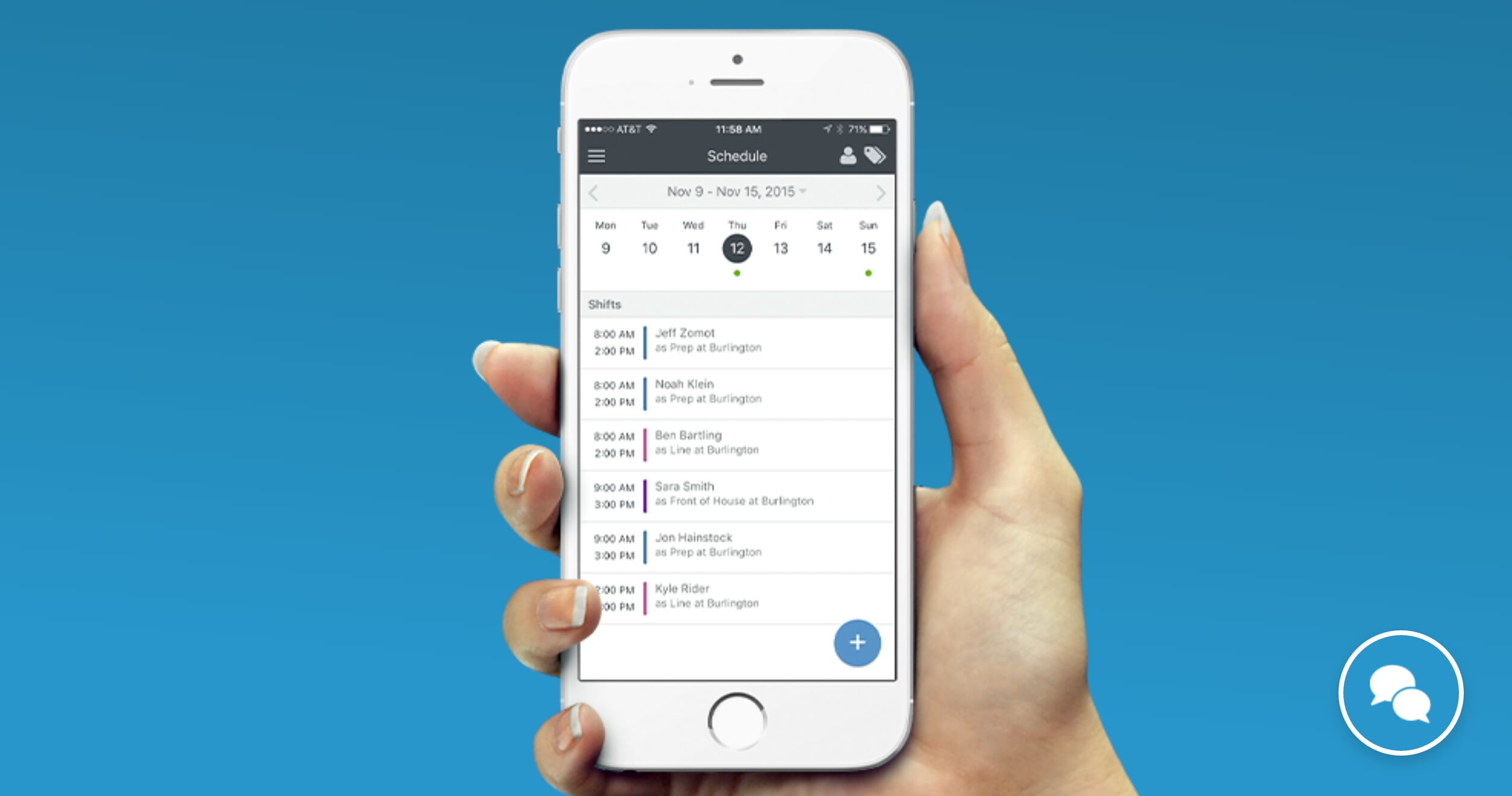 With a great app both for Android and iPhone devices, ZoomShift is innovative and modern. These days, as the market is brimming with employee scheduling software, ZoomShift has managed to create a niche for itself. ZoomShift is a staff scheduling software custom-made for modern organizations that need contemporary and powerful scheduling software to make schedules. Plus, with an easy payment system and great support, this is a clear option for any company.
This work schedule maker has all the features you need in a shift schedule maker. It updates employees in real time by sending them push, email, or text alerts. Not just that, this software automatically sends reminders to employees before their shift begins. "It just escaped my mind" is an excuse you will never hear again.
ZoomShift also has some great features that employees can use to their benefit. For instance, it allows employees to change their notification settings to their liking. This essentially means that employees can choose to opt out of receiving notifications that are of no interest to them.
This employer scheduling software also has a dedicated customer support team that works around the clock to solve any user issues. It is safe to say that with ZoomShift, you will be able to solve all of your scheduling worries.
Key Features of ZoomShift
It has an easy, impressive, and modern user interface.

ZoomShift allows users to opt out of receiving notifications that are of no use to them.

This software has an amazing app for both Android and iPhone.
DRoster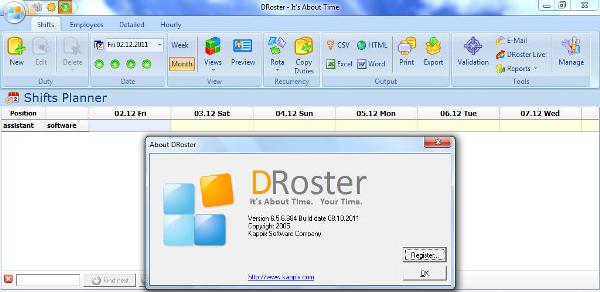 DRoster is always a top choice for small businesses and companies when they are searching for the best free employee scheduling software. It's free software that assists you in making scheduled time shifts for employees of your organization.
There is no limit on the maximum number of employees, so you can use it for every business without thinking about whether your business is big or small. This application is designed to save you time on employee scheduling so that you can spend your valuable time and energy on other business issues.
Key Features of DRoster
The application saves business owners time.
This software is easy and simple to use and you can implement reoccurring schedules.
ABC Roaster

ABC Roaster is a free employee scheduling software that is designed to give you complete assistance while planning different employee scheduling activities. It allows you to export the schedules created to Microsoft Excel, PDF, and HTML documents. It manages and formats time sheets for employees and schedules their work. In addition, it lets you decide the responsibility of each employee.
Key Features of ABC Roaster
It's simple and easy to operate.
It supervises your employee and keeps a regular check on their availability.
It can send direct emails to employees about their schedules.
ClockIt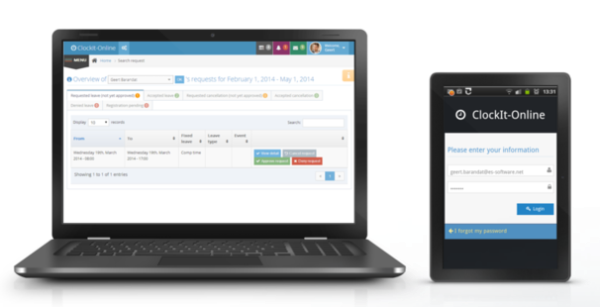 ClockIt is a free employee schedule maker, for up to three employees, that helps users to access different planned activities schedule. This software can create custom schedules for you.
Here you can review employee details, plan their shifts, and assign work for them. This software comes with a built-in feature with is an automatic scheduling tool that helps you quickly create a schedule. This software allows you to simply list your employees, allocate their shifts, and make rotations of their shifts and their availability.
Key Features of ClockIt
It can easily create a custom schedule.
It helps you to monitor employees in each department.
It can create detailed schedules very quickly.
Humanity: A Premium Scheduling Option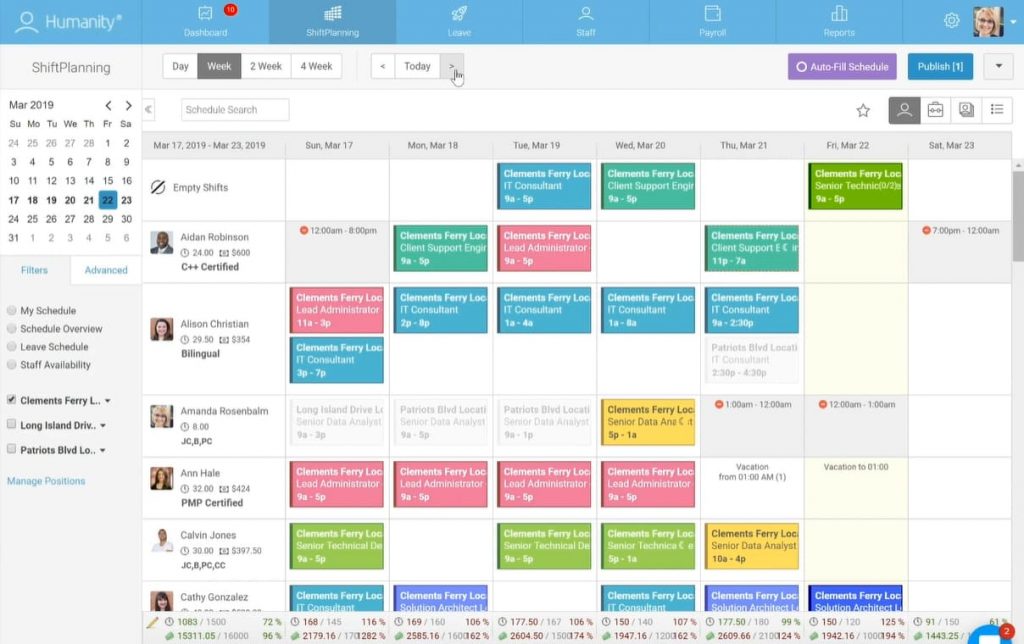 Humanity, formally known as ShiftPlanning, is an easy-to-use employee scheduling software that comes with powerful features and is well-equipped to serve both small as well as big businesses. Its user-friendly interface makes it one of the best staff scheduling software options available right now.
All you need to do is drag and drop to create a schedule. With this schedule maker, you will finally be able to give up working on those excel sheets that give you nightmares. Humanity allows its users to be more precise by letting them create schedules in minutes and not hours. All you need is an internet connection. The software works equally well on both laptops as well as phones, making it possible to schedule and re-schedule shifts even while you are on the go.
The best part about this work schedule maker is that it can be accessed by both employees as well as employers. This particular feature of Humanity allows both parties to amend the schedule. In addition, this shift schedule maker sends employees an alert message on their phones every time their schedule is changed.
Plus, you can also create schedules based on an individual's skills and level of expertise. The software has a built-in reporting system that churns out detailed reports, which can be used to gauge the efficiency and dedication of any employee. Humanity also gives its users the power to create custom reports and export and import data easily.
Humanity is quite easy to set up. It has a dedicated computer support system that will ensure that any problem you face is solved within hours. Though this is a premium software service, interested users can take advantage of a free trial.
Key Features of Humanity
Eliminate shift conflicts, notify employees of work shifts automatically, and produce timesheets every month.
Create perfect timesheets devoid of human error to eliminate over or underpaying staff.
Free 30-day trial.
Spanish version: 6 Opciones gratuitas de software de programación de empleados