Whenever we feel lonely or get bored with our daily hectic schedules, we always look or search for someone with whom we can share our feelings, thoughts to express ourselves. Even there exist a popular saying about true friendship and i.e "A friend in need is a friend indeed". It becomes true when you get someone with whom you can share your problems and get some interesting solutions to cheer you up in no time on these chatting sites.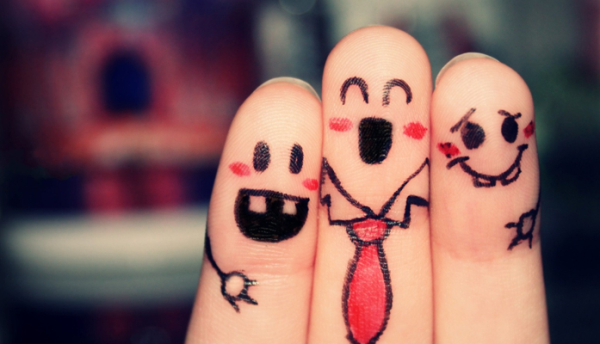 At the present time, we all are connected to the Internet for the whole of the day by some means like from your smartphone, computer or laptop and chat rooms websites is the perfect place. We can easily connect with anyone from anywhere on the web within seconds and it becomes the most common way to get connected with your friends, family, or with your loved ones.
If we don't like to make any connections in real life, then don't you worry, because now one of the most common ways to get rid of our boredom is to talk with strangers on chatting sites. Yes, You heard it right. You can start making new friends on the Internet and make yourself more comfortable in the online world.
So, here are some of the best free chat rooms where you can connect with old friends and make a bunch of new ones while staying at home. Since there are various types of chat rooms, we've, of course, broken down the list so that you can find one that suits your needs.
[lwptoc]
25 Best Free Chat Rooms To Make New Friends:
Friends help make things better, and more than that, they often help us feel better.
So, isn't it worth a shot?
Don't worry, we aren't asking you to go to the mall and start a random conversation with a complete stranger while they look at you quizzically, wondering if you've lost your mind (not that you can anyway in *ahem ahem* current circumstances).
We are talking about chat rooms! They are the perfect platform to make new friends, and you know what the best part is? Most of them are absolutely free!
So, whenever you are ready to make space for new friends in your life, take a look at our list of the best free chat rooms where you can find some amazing, like-minded people.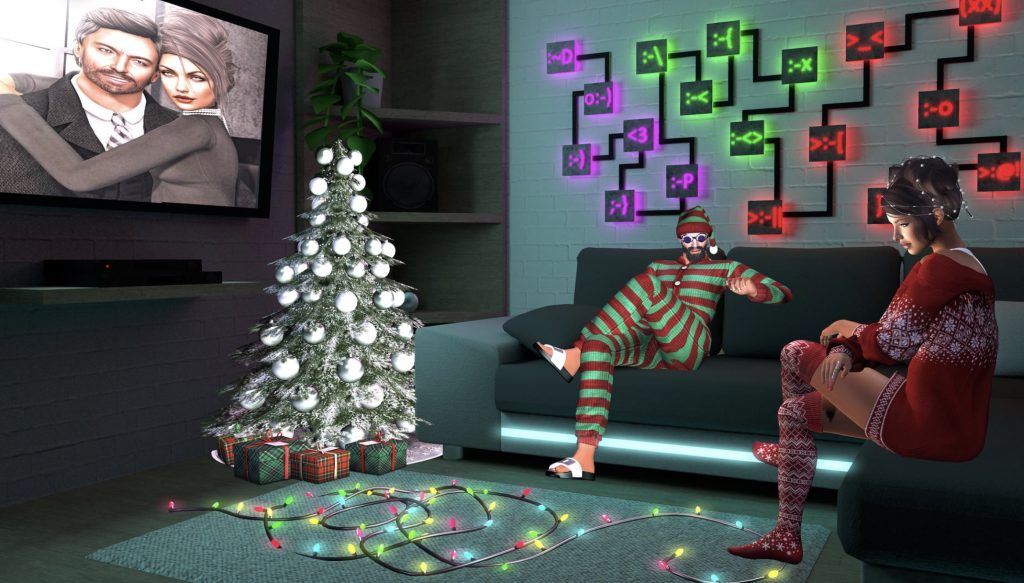 Create your own avatar and meet new people on this chat site right away!.
Second Life is a 3D virtual world free chat room, well the biggest virtual reality world, where users can create, connect, and chat with others from around the world using voice and text.
SecondLife Features
Countless Customization Options – everything about an avatar can be customized, from skin, textures, clothes, body parts, hairstyles, emotes, and more.
Truly a Sandbox Environment – every aspect of Second Life was created by other users. The virtual world features countless player-made sims and minigames.
Great Community – the community is vast and varied. There's something for everyone from those looking to roleplay, socialize, or even cyber.
Real-World Currency Exchange – player-made content can be purchased using Linden Dollars (currency of Second Life).
Lindens hold real-world value and can be traded for USDs directly on the game's official website.
Immersive World – built-in local voice chat and Oculus Rift support creates an immersive environment. Players can also talk through a built-in messenger that supports webcams.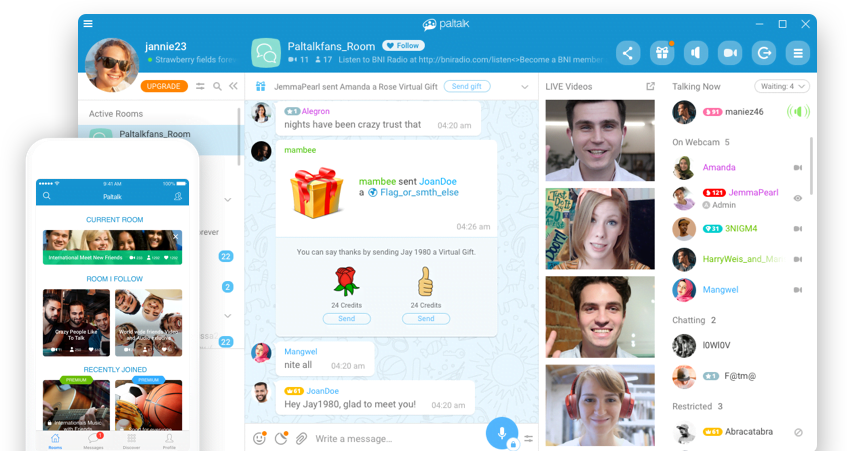 PalTalk is a voice, video and text chat service. Founded in 1998, PalTalk is actually older than Google or Facebook, and says it was the "first to combine voice and video into instant messaging."
The #1 Chat Community, according to their own saying. Have a unique video chat functionality and a very clean good looking homepage. The company says that it has around 4 million users, and has had up to 70 million downloads to date. Surely this one is one of the biggest chat sites, with easy computer downloads, and apps for both iPhones and Android.
Paltak Features
Connect to Paltalk chat rooms on the go
View multiple webcam videos within chat rooms
Connect with Paltalk friends via IM and text chat
Change status, login as invisible and customize away messages
Meet new friends by searching over 3 million profiles
Add, remove and block pals
Manage alert and sound settings
Login using any Paltalk nickname
Forthcoming addition of 1:1 video broadcasting capabilities
IMVU  FREE 3D CHAT ROOMS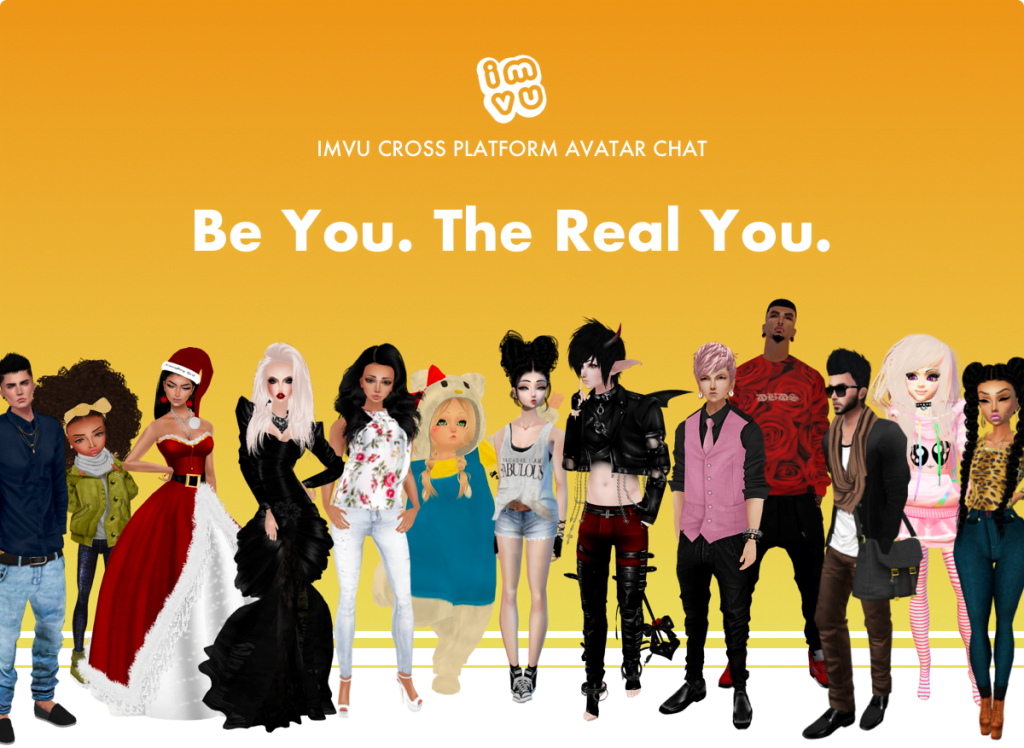 An up and rising 3D chat that has become increasingly popular. Easy signup and intuitive interface. Create your own avatar and start a chat with new friends.
IMVU is an online metaverse and social networking site, founded in 2000, it is a 3D Avatar Social App that allows users to explore thousands of Virtual Worlds or Metaverse, create 3D Avatars, enjoy 3D Chats, meet people from all over the world in virtual settings, and spread the power of friendship.
IMVU Features
View Themed Rooms, and a separate category for your own Public rooms
Hear Music Mixes
Perform trigger actions
Use the Narrate Feature (for VIP/AP users only!)
Moderate rooms, and assign moderators for your own rooms
Shop for clothes and outfits
Buy and arrange furniture
Buy Stickers in Shop
Filter your Inventory
Access Profile Settings (VIP Preferences, hide your email address in search, etc.)
Access Get Matched, Shop Together, and Walk Off
Access Online Friends
Enterchatroom allows you to have free online chats with strangers.
Free chat room with no registration required with country based online chatrooms where you can video chat live with people around the globe.
EnterChatRoom Features
Live video chat rooms
Watch multiple webcams
Group and private chats
Instant messaging feature
Offline email messaging
One of the best chat websites and you can also see who is watching you along with user profiles with pictures.
Overall, AntiChat provides a reliable platform for users to freely join chatrooms and meet new people. They get to keep their real identity to themselves and be free in whatever it is they want or need to say.
The app's extensive anonymity & security features
no name
no history
no ads
no fee
no spam
no bots
no violence
Fosters an environment where you can feel free to easily make friends Online & meet new people by sharing & discovering secrets. Gossiping & adult-themed confessions seem to flow freely & through the app's age & gender segmentation, dating & matchmaking is a definite possibility.
The site has some very great features like ultra-simple video chat format. The site is really popular for online chatting, voice chat and video chat. The website uses adobe flash to display video and access the user's webcam.
Chatroulette is an online chat website that pairs random users for webcam-based conversations. Visitors to the website begin an online chat (text, audio, and video) with another visitor. At any point, either user may leave the current chat by initiating another random connection. According to The New York Times, the site is intensely addictive.
Chatroulette Features
There is no basic need for login and registration
It allow users to upload their profile picture
Ultra-simple video chat
Online chat (text, audio, and video)
This site has some great features like an ultra-simple video chat format. This site is very popular for online chatting, voice chat, and video chat. There is no basic requirement for login and registration.
RockChat is global friendly mobile chat site dedicated to online chatting, dating and flirting via mobile phone.
This mobile social network is designed for interactive chatting with people around the world. The website design incorporates an easy and fast chatting system that is loved by millions. People login from America, Canada, Australia, United Kingdom, Philippines, India, Middle East, Russia and Africa to chat, date or flirt with local and international online users. This site is moderated to ensure that required chat safety is ensured along-with online privacy.
Users need to register themselves on rock chat. And once they are registered they can log in by using their username and password. The great thing about using this site is that works very fast on your smartphone. There are mobile chatrooms where you chat online without any registration, however, you need to be registered for using the inbox feature. This feature allows you to have private chat with users.
RockChat Features
mobile chat
private chat rooms
easy text online dating
online chatting
mobile friendly chatrooms that are super fast
RockChat is a safe and friendly place to chat and have fun.
Teenchat is very similar to zobe. You just need to choose a username of your choice. And then click on "join room" and now you can chat.
TeenChat Features
The site offers an optimized mobile version.
Easy to use.
This application will be one of the easiest on your mobile phone.
Navigate and access Teen Dating fast.
Meet teens every day on the best site.
Most importantly, you can find a couple in your application, completely free.
A teenage chat room for dating teens and free chats near you.
Registration and use do not require payment, it's absolutely free.
TeenChat is a free chat site for teens to communicate and find other teens online anonymously. You can talk about social issues, fun things to do after school, or gossip about celebrities. Teens can add friends, chats, and send private messages.
Free Chat Rooms for Singles
As the old but ever-favorite adage goes
'Are you single and ready to mingle?'
Chatforfree.org chat rooms are the best place to video and webcam chat free, a great online chat room where users can not only chat to random anyone but can also see who they're chatting with via the video chat option. You also have the option to add friends to your contacts, chat, and share pictures.
Chat for free is offers a free online chat room with a webcam feature. Users can randomly chat with anyone. You can also have a video chat with the user on the other side. There are various chatrooms available in it like singles, USA, Australia, ladies, Canada, Indonesia, Spanish, Africa, Portugal, Germany and many more like it. you can also add friends to your contact chat, and more you can share pictures with your family and friends.
ChatForFree Features
Free webcam chat rooms
No registration required
Anonymous chats
Mobile chat app for Android, Apple Ipad and Iphone, any mobile device.
Webcam chat no cam is needed
Unlimited guest chat access
Real time video chat streaming
Crystal clear audio
Nothing to download
Instant chat
Totally free
Enjoy live video chat at ChatForFree.org
Elitesingles.com offers an easy to use website where you can chat with new people. The chat room is free, but the registration process and the many questions that are asked can take a while (a few minutes at least). Also, Elite Singles is only available for US citizens.
EliteSingles Features
Magnificent intelligent matching.
A unique set of Preliminary Questionnaires which analyzes 29 different sets of character traits.
It gives mature and serious relationships a topmost priority.
Quality over quantity.
Wildcard matches for premium users with 20 matches per day.
Experts on dating write a helpful blog.
Professional site with a clean layout for people who wants to meet new friends and dates. Top dating site with instant and private messaging and easy to make new connections with other serious people.
CharmDate is an online dating service and matchmaking agency for singles a great way to date women from Russia & Ukraine for love.
Charmdate.com Features
Easy registration.
Various modes of communication available.
High activity.
Verification.
Search filters are free.
Women on CharmDate are very active.
One can switch to any Qpid dating platform internally through the app.
Huge member base.
These free chat rooms for singles didn't make it to the list, but they deserve to be mentioned.
Before the name of this chat room sends a nervous chill down your spine, know that it isn't just for finding love and meeting your soulmate. It's also for people that are single and are looking to make new friends.
There are more than 7,800,000 members registered in this chat room. Due to the staggering number of people that you can chat with, there's a high probability that you'll find some other single people and possibly make new friends!
Again, don't let the name creep you out. This is one of those basic free chat rooms where you can chat anonymously with a stranger without having to log in or register. This chatting platform doesn't allow you to share pictures or video chat as the main idea behind this is to maintain anonymity and engage in judgment-free conversations with people from all around the world.
Free Chat Rooms for Single Parents
Being a single parent is hard, but that doesn't mean you can step into the dating world again or even make new friends, right?
This free chat room has been catering to chatters for nearly a decade. There are a number of different chat rooms that you can choose from, and there's also a free webcam chat option that does not require any registration. You can use the 1 on 1 chat option or 1:many webcam streaming option as well, which makes it a great choice to find and chat with other like-minded single parents.
321Chat.com is an old favorite of many chatters. They have webcam chatrooms dedicated to specific ages and niches such as teen, adult, and senior chat and religion, gay and singles chat. Their rooms are accessible on all mobile devices but work best on desktops. The website has a great design and is kept current with regular uploads of articles and reviews on chat related topics like webcam.
Established in 2002, 321Chat is one of the webs longest running chat sites. Our chat rooms work perfectly on all mobile devices and are packed with features everyone can use. Simply select a chat room topic and start chatting.
321Chat.com Features
Make Friends with People who Share Your Interests
Chatters are allowed to speak freely, to have fun or have fights but moderators are around to step in when the trolls appear
Send messages
According to the Google browsing safety protocol, this website is particularly safe for everyone.
The level of privacy offered by 321chat is high enough to let you sit back and make friends without any tension.
Webcam facility has been able to attract the attention of many people across the world.
High-quality features can allow you to contact millions of people on the platform, and you can also give them gifts.
You should be rewarded for all the hard work you put into yourself and your children's life; everything from working, making dinner and tucking them into bed every night. You don't get the appreciation that you deserve.
You also realize that you don't have much time and money to go to bars to see if there is someone out there to connect with. With Single Parents Chatroom, you will have access to tons of parents like you who are looking for a connection online and are doing so in the comfort of their homes.
You can chat with singles from all over the country with similar interests and experiences. Whether you are looking for friendship, a casual conversation or just some advice so that you can talk about different parenting skills, we have it all for you. You can forget those days of being set up on horrible blind dates; put that in the past because now you have single parents and single parent admirers who are waiting to find you! Now all you need to do is create a stunning profile with pictures and a description of you who are and what you are interested in.
This is another great option for single parents looking for a free chat room to meet others.
Once you have completed your profile, you can check out other profiles and see if there is a connection. Only you will know what's out there once you join www.singleparentschatroom.com.
These free chat rooms for single parents didn't make it to the list, but they deserve to be mentioned.
This is known to be one of the best free chat rooms for single parents – one that is full of other fun and amazing singles like you.
Registering yourself on this chat room takes as little as 30 seconds, so it won't take long before you're ready to befriend a super cool single mom or dad.
Whether you are a single father looking to meet a like-minded single mother or vice versa, this chat room for single parents certainly won't disappoint you!
Find a single stranger, break the ice, look at each other through the webcam, and then see if you want to meet up in real life.
Free Chat Rooms for Couples
Who said chat rooms are only for single people looking for love and friendship? Newsflash, even couples need couple friends. A great way to meet and chat with new couples is through the excellent chat room for couples that we've mentioned below!
This site has a lot of chatrooms where you can interact with friends and strangers. One of the oldest chatting website tools. There is also a country-wise division for the chat room so you choose as per your choice.
ICQ chat room Features
Log-In via Phone Number
Encrypted Video and Voice Calls
Group Chats
Global Search
Stickers
Live Chats
Interactive Masks
Neural Networks for photo and video.
Icqchat.net offers plenty of chat rooms where couples can interact with peers or other couples. This is also one of the oldest and most reliable chatting platforms.
TenderMeets enjoys great popularity among people worldwide. The majority of the visitors are from the United States, France, and Spain. Around 1,600,000 users are from the USA alone. The service welcomes nearly 260,000 members per month. There are more males than females. Though the majority of the audience is from 18 to around 55 years old, the site is in high demand by users in the age bracket 25 to 44 years. The website is open for people looking for same-sex relationships. Many appreciate this kind gesture and post good reviews about the TenderMeets portal.
TenderMeets Features
A perfect place for finding both love and lifelong partners
Search parameters help you find a compatible match
You can use it on any device
A privilege to add partner suggestions to Like Gallery
Easy sign-up process
You can contact customer support via phone
TenderMeets also functions as a social network. Unlike other matchmaking services, it is quite liberal and allows all the users to date any other member without posing any restrictions. People are free to indulge in LGBTQ and interracial relationships. If you are seeking an honest TenderMeets review and the feedback, it is crucial to have first-hand experience in browsing the website.
Free Chat Rooms for Married People
Are you and your husband or wife looking to make new friends with other married people? If yes, there are so many free chat rooms where you can do that and make friends for life!
For married couples who are looking to shake things up during the pandemic, Moco Space offers a fun platform where you can chat with other like-minded people and play games as well. The upbeat vibe and user-friendly design of this platform make it a must-visit even for married couples.
MocoSpace.com Features
Diversity. The members of Mocospace equally represent different groups of ethnicities and nationalities, which makes it even more attractive
All users' profiles are visible even with the free version
Making contacts and exchanging messages is unlimited for everyone, even non-paid customers
Single sign-on capability: users may sign up simply by using their Facebook or Google accounts
Gamification makes communication an easy and fun journey
The beauty of Mocospace is in its availability in the web and mobile browsers as it was first created as on-the-go service for mobile users. Now it's also available at AppStore and Google Play. Unfortunately, users of smartphone windows are not able to experience the full advantages of the app, but they can still communicate using the mobile web version.
This is more of a social networking site that was mainly created on the basis of how popular MySpace was.
MocoSpace presents you the opportunity to meet new people, chat with them, play games, and so much more!
This is another online space where married couples can find others to chat with. While this is a relatively new chat service, it does offer plenty of options, including voice and video chat, and the best part is, there's no need to register to use the service.
TinyChat.com Features
To interact, you can use a mobile version after downloading the app (it is available for both Android and iOS devices)
This site has an intuitive interface
With this website, you can communicate with people from all around the globe
TinyChat provides lots of features for conversations
You can get a lot of features for free
It takes less than five minutes to create your account
This website has a user-friendly interface, and you do not need to waste hours learning how to communicate via this platform. So, your experience here will be quite enjoyable.
With a feature that allows you to take part in group video chats, this chatroom is a wonderful option for married people.
Look around, explore, talk to strangers and even do voice chats till you find that perfect married couple that is exactly like you.
Free Dating Chat Rooms
Dating is such a risky game, so why not do it from behind a screen until you're comfortable enough to meet up in person?
Justchat is a free chat service from the UK. This is a free chat room service that does not require you to register. Other features of this platform include access to message boards, email pen pals, chat forums, and message boards and all are free and without registration.
Justchat Features
Chat Forums
Register and use your own chat name
Remove security check from chat forum pages
View and post to message boards
Upload or edit profile photo
Send and read private messages
Create / edit profile
Badoo is for the young, wired, and hip people from around the world.
Bigger then Linkedin, this is probably the most popular modern hang out, a dating-focused social network founded by Russian entrepreneur in 2006. It is headquartered in Limassol, Cyprus and London, United Kingdom, with offices in Malta, Russia and the United States.
Badoo.com Features
Tremendous popularity: let's not forget the number of members existing on this platform. Yes, it's enormous. Badoo has 446 million users from 180 countries. I think that covers almost the whole world out there. Still, if you have some doubts about the popularity of this platform, let's look at some real facts. The site claims to have 3 lakh new members every day. Almost 350 million messages are daily exchanged between its users, and every month, the average active members on the site reach up to 60 million.
Genuine members: many dating sites may ignore the type of members they are getting on their websites. But Badoo doesn't ignore that stuff. It has a robust verification system which ensures that all the members on the platform are real and genuine. No more spammers can bite you over here.
User-friendly interface: both the website and the app version of the service is quite appealing and exciting. It's quite simple and easy to navigate. The features are very well organized to make your stay comfortable on this platform.
Bumped into a feature: It tells you when and where you have passed through a particular user by tracking out locations.
It operates in 190 countries and is available in 47 different languages, making it the world's most widely used dating network.
Easy sign in with Facebook (no worries they don't post anything on your behalf) so new friends are just a click away!
Where people with high standards and not afraid to show it meets. Well educated, good looking people just like you and me;)
Elitemate Features
New Astrology Feature, astrological text charts
The ability to block/unblock specific users, states, countries and sexualities proactively from all EliteMate means of communication (email, IM, greeting cards, browser winks, friends, pen pals) in the My Profile area of your account.
A brand new Safety Tips helpful hints page that is updated regularly with techniques, advice and a how to that helps create as safe and fun experience
Users will have the ability to anonymously call any member on the site from a personal (home, cell or work) phone using EliteMate's anonymous telephone communication relaying system.
EliteMate has it's picture personals available on your cell phone with over 8 Million singles
Wink Feature
EliteMate added all new chat room hosts that make our chat rooms the Elite Social Hot Spot!
Tired of endless chat room searching and just want to meet someone?
Date.com is making it easy for you to find someone to meet up with tonight. World-leading in getting people together with an easy free sign-up, clean interface, and overall professional feel. Worth a try!
A free membership with no expiry date offers curious singles the opportunity to access almost all of Date.com's site features except for their computerized matching system, email and/or video contact with other users, or access to the chat rooms.
Date.com Features
Date.com offers a free toolbar installation so users can surf the web while still showing up as present in the database and for members to connect with them in real-time chat.
Create a profile
Add a photo
Searching (basic and advanced)
Save a search
Flirt by showing interest
Favorites
Sending emails
Connect your Account via Facebook
Quite a progressive dating site with lots of open-minded people. Also free to register but I would recommend going premium for the full functionality.
Flirt.com Features
The process of an account getting is entirely understandable.
Members from all over the world are available to join the platform.
There offered different ways of communication.
The platform is entirely free. The system requires no payment membership plans.
Unique options are available to do your search and flirting more exciting.
You can easily use the free chat websites mentioned above and stop worrying about revealing your email address and stay away from spammers. You can also share your first experience with us here in the comments section.
These free chat room for dating didn't make it to the list, but it deserves to be mentioned.
If you are only looking to date, meet new people, and just keep things low-key for a while, this is one of the best free chat rooms out there. It is active with hundreds and thousands of members, so it's very likely that you'll find someone for you!
After all, the goal of this chatting platform is to bring all the love seekers together!
Free Political Chat Rooms
Like religion, politics is a very personal and sensitive matter, and political discussions often hurt an ego or two in the process. However, political discussions are important and there are chatrooms online that facilitate these discussions.
Over the past few months (or four years), US politics seems to have captured the imagination of many people, not just in the US, but around the world. So, it only makes sense to include a few of the best free political chat rooms that are available where you can scream with joy (if you voted Blue), or vent your frustration (if you voted for the other guy). Chatib.us is one such website where you can log in (for free) and speak your heart out on politics, civil rights, and FREEEDOOOMM!!
Chatib Features
The application is freely available and does not require paid membership.
There are thematic chats for users with different preferences.
Registration is optional, and there is a Guest mode.
This chat platform allows you to log in (for free) and speak your heart out on politics, civil rights, and absolutely anything and everything politics-related!
Wouldn't it be amazing to find someone to date according to your age, sexual orientation, personality and overall just how you are as a person? This website also offers a dedicated chat room for those who want to discuss all things politics.
Wireclub Features
The chat rooms are active.
Users are free to create their own chat room
Various means of interaction, like games
This is mainly a dating zone, but it also has chat rooms for people that love talking about politics freely without any shame or hesitation!
Premium Chat Rooms
Maybe the most well known of all the social meetup sites and had to go on the list, even though most of their features are paid features.
Match.com is an online platform for singles to meet new people and perhaps find love. It is one of the oldest dating sites around operated by Match Group, which runs a variety of platform available for people around the world.
Match.com is focusing on the "Baby Boomer" generation, people older than 50.
Features
Sending messages is a paid feature
You can send likes for free
Search filters are extensive
You are able to keep track of those you send likes to
There is a chatroom for premium
You get a personal profile which you can fill out
Over 20 million members worldwide
More than 8 million have a premium subscription
Most reside in the United States
High member activity
Majority are looking for serious relationship
How do free chat room sites work
A chat room is nothing but just another corner of the website which helps you to get connected with other persons with or without revealing your identity.
Online chat rooms are either a part of the website or online service that provides a place for the community of users with a common interest with which they can communicate in real-time.
This is one of the best ways to share your feeling with someone with the same interest as yours and you can easily find a lot of free chat rooms on the Internet.
Chat rooms like email, instant messaging and social networks are virtual extensions of real-world human interaction. Chat rooms are online spaces where users communicate with one another through text-based messages. It's like a virtual cocktail party, where strangers gather to flirt, argue about politics and sports, ask for advice, talk about shared hobbies and interests, or simply hang out.
Chat rooms have evolved through the years adding features like virtual reality, video, mobile and much more, making it more addictive and enjoyable by the day.
A Word About The Best Chat Rooms during the Pandemic
The coronavirus pandemic has resulted in social gatherings, whether at the pub or club or at people's homes being postponed. Furthermore, we've been advised to limit any unnecessary travel, and when we do, practice social distancing. All this is to help flatten the COVID19 curve, which is sadly on the rise… again.
We've already gone through a summer without live concerts and sporting events canceled weddings and other social gatherings, and the like. This has led to many folks turning towards digital platforms because at the end of the day, as old boy Aristotle put it, "Man is by nature a social animal." In other words, we have not been programmed to break the shackles of mutual dependence, and so, we seek out social interaction, any interaction – even if it's through a screen.
Whether you are a single parent, an inspiring politician, a married couple or a single person looking to make new friends and find new people, these free chat rooms are your best bet!
If you want to truly anonymize your online presence you should get a VPN, here is a list of the ones we think do a great job some carefully curated from the reddit free vpn thread.
Bonus Reading
For those of you interested in starting a career in Graphic Design, here are the best Graphic Design tools, software, apps, and hardware we use on a day to day basis. A huge list with more than 56 items rated.
Spanish version: 25 Salas de chat gratuitas para hacer nuevos amigos
Save