Thanks to mobile banking apps, what was once a complicated process has become simple and convenient. You don't have to drive all the way to your bank branch. Instead, you can do most of your banking through our very own smartphone.
In today's article, we will look at a mobile banking app offered by one of the oldest and most reputable banks in the UK. HSBC UK allows users to manage their finances from the comfort of their smartphones.
Let's find out about the app's updated features, the process to download, and how to use the app without any hassle.
About HSBC Bank
HSBC Bank is one of the world's largest and most diverse financial services companies. With over 150 years of experience, HSBC provides a full range of banking, global banking, investment management, private banking, and wealth management products and services to individual customers.
Similarly, HSBC UK, a subsidiary of HSBC Holdings PLC, is a global organization with a wide range of products and services for business and personal customers. Through its network covering almost 63 countries, HSBC serves over 40 million customers in Europe, Asia, the Middle East, Africa, and Latin America.
HSBC UK is active in offering innovative products and services, which have helped the bank to flourish. As a result, thousands of satisfied customers today benefit from HSBC's various services and products. And a global presence coupled with a powerful intellectual strength has made it one of the most reputed bank firms in the world.
Services Provided By HSBC UK
HSBC UK knows that its customers want more than just the core banking services they need. That's why they offer an array of products and services designed to support you while you broaden your horizons.
These offerings include world-class international banking, market solutions, portfolio management and asset assortment, corporate treasury, and a global payments network.
HSBC UK also provides trade finance and treasury management solutions and foreign exchange services for international trading that meet your requirements.
The Ever-Evolving HSBC UK Mobile Banking App
The HSBC UK Mobile Banking app offers a simple and safe way to manage your bank account activity and send money. It brings together all your bank accounts and lets you do everyday tasks with just one app. With the HSBC UK Mobile Banking app, you can make international transfers, manage your credit cards and pay bills securely wherever you are.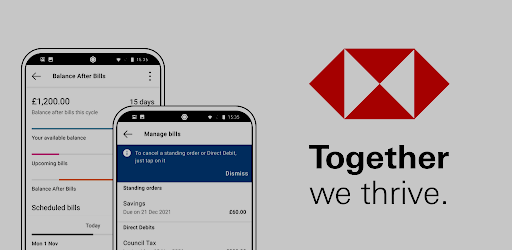 With the HSBC UK Mobile Banking app, you can bank at the touch of a button. Its unique user interface and intuitive features make banking a breeze without ever having to leave what you're doing.
Moreover, the bank itself is determined to provide its customers with the best possible user experience on its mobile banking app. It features a complete overview of your account details and an easy way to access account statements and balances, spend your money, and send money securely.
Additionally, HSBC UK pushes regular updates, including simpler payment options, a newer account page, and much more.
An Entirely New Approach to Banking
The HSBC UK Mobile Banking app gives you the power to make banking far more convenient and efficient. The re-designed accounts summary page gives the users a detailed overview of their accounts and balances, including up-to-date balances, cash deposits, and withdrawals.
Moreover, a new update for the HSBC UK Mobile Banking App has been released and offers simplified and instant support functions. If you find any bugs or issues in HSBC UK Mobile Banking App, you can instantly reach out to the bank via the "Chat With Us" option.
Plan Your Budget and Achieve Your Financial Goals
The HSBC UK Mobile Banking app is a smart and safe money management tool that allows users to connect their bank accounts and check up on their finances from anywhere in the world. This enables people to maintain a 360-degree view of their finances, making it easy for them to plan areas such as loan repayments, savings goals, and retirement investments.
This view includes useful money management tools, such as a budget planner to help you stay on track and save for the future. Users also have access to an investment calculator to work out which investments will give you the best return and a handy saving goals calculator so you can keep track of whether your goals are being met.
The app also assists you with achieving your financial goals and growing your money. So if you're trying to get out of debt or start your first business but can't move beyond your comfort zone, the HSBC UK Mobile Banking app can help. It enables you to set up your savings plan and track your spending to stay on track toward achieving your financial goals.
Investments on the Go
The HSBC UK Mobile Banking application also features multiple investment opportunities, which start with as little as £50 per month. The HSBC experience is built around globally-sustainable, ready-made investment portfolios, so you can enjoy more from every pound you invest.
In order to start the investment journey, you need to log in to the app, select the Investments tab, and follow the simple steps mentioned. You can choose one from numerous portfolios considering your risk levels and then select the regular payments mode.
Transaction Alerts and Notifications
HSBC UK Mobile Banking keeps you informed by letting you know about every transaction made from your accounts. It not only sends notifications about your spending and payments but also gives you details about the extra charges that are being deducted from your account.
The benefit of transaction alerts and notifications is that you will instantly be notified about every transaction. Therefore you can conveniently spot any suspicious activities in the account and report them to the bank immediately.
You can choose to be notified at three different levels. You can be notified when transactions come in, when they go out, and when they do both. In addition, you can choose which accounts you want to receive transaction notifications from.
Mobile Statements and Mobile Cheque Deposits
The intuitive, easy-to-use HSBC UK Mobile Banking App gives you secure access to your current account, savings, and credit card statements. With a user interface that is as elegant as it is intuitive, you can keep up seamlessly with international transactions and manage all of your accounts in one place from virtually anywhere.
Another important feature of the app is its ability to make cheque deposits. The HSBC UK Mobile Banking app lets you pay cheques from your smartphone or tablet without needing to visit a branch office. To do this, you must select the account you wish to pay from, enter the value, and then scan the front and back of your cheque.
While you can deposit a large sum of cash into your bank account in one fell swoop, it is worth noting that mobile cheque deposits can only be made up to a specific daily limit.
How Can You Download the HSBC UK Mobile Banking App?
The HSBC UK Mobile Banking app is free to download and is available for Android and iOS smartphones.
You can download the app by searching for it in the Apple App Store or the Google Play Store. Once you find the app, tap on it, and click on the download button to initiate the downloading process.
The newest version of the app requires an iOS version of 13.0 or later on iOS devices, while the system requirement on Android devices is 7.0 or above.
The HSBC UK Mobile Banking app serves as your 24/7 support center. You can quickly get access to tons of helpful information by navigating to the Support tab.
Logging in to the HSBC UK Mobile Banking App
Once you have downloaded the HSBC UK Mobile Banking App, the next step is logging in. There are two approaches to this. Firstly, if you're a registered user of HSBC Online Banking, simply enter your login credentials, which include your registered mobile number and password.
If you are not a registered user and using the mobile banking app for the first time, you will have to first register for mobile and online banking. To do so, you will have to create a digital banking profile, which can be done right from the HSBC UK Mobile Banking app by following three simple steps.
Start by verifying your identity in HSBC UK and get a one-time verification code. Once you have input the code, you can create your mobile banking credentials and log into the app.
The Bottom Line
The HSBC UK Mobile Banking app is the ultimate tool for managing your financial accounts in one place. The HSBC UK Mobile Banking app brings together the most powerful features of a banking app for a brilliant mobile experience that's easy to use and easy to access wherever you are.