Are you ready to unlock a world of savings and convenience?
With the McDonald's App, you can do just that. Beyond simplifying your fast-food orders, this app brings exclusive deals that add a layer of delight to your McDonald's experience.
Whether you're a longtime fan or new to the Golden Arches, join us as we explore how the McDonald's App can elevate your dining adventures while keeping your wallet happy.
Benefits of Using the McDonald's App
Before we delve into the enticing world of exclusive deals, let's first explore the benefits of using the McDonald's App. Here are the advantages that make this app a game-changer for fast-food enthusiasts:
Convenience: Streamline your orders with a few taps, skip the lines, and enjoy faster service.
Personalized Recommendations: Receive tailored menu suggestions based on your preferences and previous orders.
Cost-Saving: Access exclusive deals and promotions that help you save money on your favorite McDonald's items.
Order Customization: Easily customize your orders to suit your taste and dietary preferences.
Mobile Payments: Securely pay for your orders through the app, making transactions a breeze.
Easy-to-Navigate Menu: Browse the menu, check nutritional information, and find allergen details with ease.
Order History: Keep track of your past orders for quick reordering.
Promotions and Alerts: Stay updated on the latest promotions and offers from McDonald's.
Location Finder: Locate nearby McDonald's restaurants effortlessly.
These benefits showcase how the McDonald's App can enhance your fast-food experience.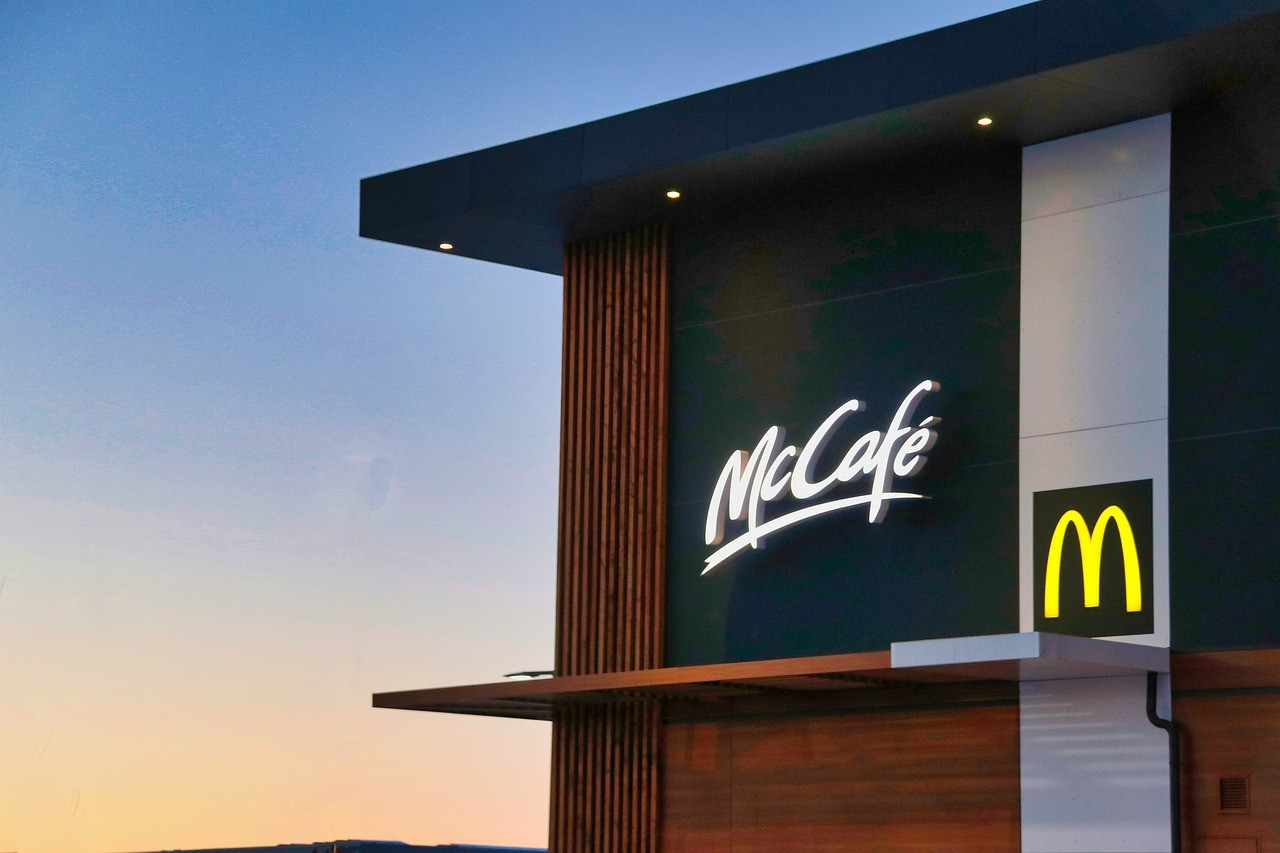 Exclusive Deals and Offers
Now, let's dive into what makes the McDonald's App truly exciting: its exclusive deals and offers. Here's a breakdown of the enticing promotions you can access through the app:
Daily Deals: Enjoy daily discounts on popular menu items.
Mobile Order & Pay Deals: Exclusive savings for using the app's mobile order and pay feature.
McCafé Rewards: Earn rewards for McCafé purchases, such as a free coffee after a certain number of purchases.
Limited-Time Promotions: Be the first to know about limited-time offers and special promotions.
Happy Meal Toys: Get information on the latest Happy Meal toy promotions.
Combo Offers: Discover money-saving combos tailored to your taste.
Birthday Surprises: Receive special birthday offers and treats.
App-Only Discounts: Access deals available exclusively through the McDonald's App.
These exclusive deals and offers add value to your McDonald's dining experience and ensure you get the most bang for your buck.
How to Use the McDonald's App
Let's begin your journey to unlocking exclusive deals with the McDonald's App. Here's a straightforward step-by-step guide on how to download and install the app:
Visit Your App Store: Open the app store on your mobile device, whether the Apple App Store for iOS or Google Play Store for Android.
Search for "McDonald's App": Use the search function to find the McDonald's App. The iconic golden arches logo typically represents it.
Download the App: Tap the "Download" or "Install" button to begin downloading.
Install and Open: Once the app is downloaded, tap "Install" and "Open" to launch the McDonald's App.
Account Setup: Follow the on-screen prompts to create a McDonald's account or sign in if you already have one.
Allow Permissions: Grant any necessary permissions, such as location services, to enable features like restaurant location finding.
Now, you're ready to start exploring the app's features and enjoying the convenience of exclusive deals at McDonald's.
How to Access and Redeem Deals
Unlocking the enticing deals offered by the McDonald's App is a breeze. Here's a straightforward guide on how to access and redeem these exclusive offers:
Open the McDonald's App: Launch the McDonald's App on your mobile device; it's time to start saving.
Explore Deals: Browse through the available deals, which are often featured prominently on the app's home screen.
Select a Deal: Tap on the deal you want to redeem to view the details.
Add to Cart: If the deal requires an order, add the specified items.
Check the Terms: Review any terms and conditions associated with the deal, such as eligibility or redemption limits.
Redeem In-Store: When you're ready to redeem, head to your selected McDonald's location and inform the staff that you have a deal from the app.
Scan QR Code: For some deals, you may need to scan a QR code at the restaurant to claim your discount.
Enjoy Your Savings: Once the staff validates the deal, enjoy your meal at a discounted price.
Following these simple steps, you can access and redeem exclusive McDonald's App deals to make your dining experience even more rewarding.
Tips for Maximizing Savings
To make the most of your McDonald's App experience and ensure you save every penny possible, here are some valuable tips for maximizing your savings:
Enable Notifications: Let app notifications stay informed about new deals and promotions in real-time.
Use Mobile Ordering: Utilize the mobile ordering feature to access app-exclusive discounts and streamline your visit.
Check Deal Expiry Dates: Remember deal expiration dates to avoid missing out on time-sensitive offers.
Combine Deals: Where possible, stack multiple deals or promotions for extra savings.
Join Rewards Programs: If available in your region, participate in loyalty programs to earn rewards and discounts with every purchase.
Share with Friends and Family: Share the app's exclusive deals with your loved ones to maximize savings for everyone.
Check for App-Only Offers: Regularly check for deals exclusively available through the app.
Review Terms and Conditions: Ensure you meet all requirements and conditions for each deal to avoid disappointment.
Provide Feedback: Share your thoughts and feedback through the app to potentially receive special offers.
Stay Updated: Keep the app updated to access the latest features and deals.
These tips will help you make the most out of the McDonald's App and enjoy substantial savings on your favorite meals.
User Experience and Reviews
Let's look closer at the user experience and what customers say about the McDonald's App. Here's a snapshot of the app's user feedback and overall experience:
User-Friendly Interface: Many users appreciate the app's intuitive and easy-to-navigate design, making ordering a breeze.
Efficient Ordering: Positive reviews highlight the speed and convenience of mobile ordering, especially during busy hours.
Savings Satisfaction: Customers often express satisfaction with the money-saving deals and promotions available through the app.
Customization Options: The app's order customization features are well-received, allowing users to tailor their meals to their liking.
Location Finder: Users find the restaurant locator feature useful for locating nearby McDonald's branches.
Loyalty Rewards: Those in regions with loyalty programs praise the app for its rewards and discounts.
Minor Glitches: Some users report occasional technical glitches or order inaccuracies, though these are relatively rare.
Regular Updates: Positive feedback acknowledges McDonald's commitment to app improvements through regular updates.
Overall Convenience: Many reviews emphasize how the app enhances their general McDonald's experience by saving time and money.
These insights into user experiences and reviews shed light on the app's strengths and areas where it has resonated positively with its customer base.
Closing Thoughts on McDonald's App: Exclusive Deals Unveiled
In summary, the McDonald's App combines convenience and savings, streamlining the dining experience with its user-friendly interface and exclusive deals.
While minor technical issues have been reported, the app's benefits outweigh these drawbacks.
Downloading the McDonald's App opens the door to a world of exclusive deals, making your McDonald's experience more delightful and budget-friendly, whether you're a loyal customer or a newcomer to the Golden Arches.